ACE Exchange is the Full compliance and trustworthy Fiat-Currency Exchange in Taiwan.
How to Contact ACE Exchange Customer Support/Phone Number?
Customer Care phone: (02)2570-0271
Email: [email protected]
Website: https://ace.io/home

ACE registered office address
Lane 193, Dehui Street, Zhongshan District, Taipei City, Taiwan 10491
About ACE Exchange
Founded: 10/11/2018
Founder: Nischal Shetty
ACE Exchange is committed to building the most professional legal currency digital currency exchange in the Chinese world, and will actively cultivate high-quality blockchain projects, opening a door for the public to access virtual currency and blockchain. The ACE team comes from industry elites in finance, information, marketing, and blockchain. It will provide the safest transaction channels and the highest-level user experience, and hopes to promote virtual currency to every corner of Taiwan.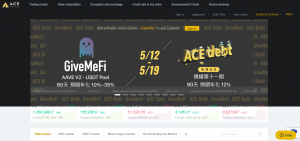 Features
User growth system
It is the first in Taiwan to integrate the user growth system commonly used in the game industry into the exchange, and you can enjoy good health through active interaction
Safety first
Adopt international DDos defense mechanism and AI application firewall to maximize the protection of user assets
Click here to know the Deposit and Withdrawl Fee
Legal compliance
Develop products and operating procedures with the highest standards of financial institutions, and abide by KYC and AML standards
Tailor-made digital products
Configure risk level framework and customized investment portfolio, provide tailor-made financial products and purchase/withdrawal limits
Top 7 Traders of Cryptocurrencies in ACE Exchange
Ethereum
Bitcoin
Tether
Binance Coin
XRP
Litecoin
Crypto.com Coin
FAQs
1. Is there a limit for deposit?
Please be aware that you can only use your personal NTD bank account which you have bound with ACE Exchange for safety level B. The deposit will fail if you use bank accounts that did not bind with ACE Exchange for safety level B
2. Do my assets in ACE Exchange have a Trust?
Since 2020/07/15, ACE Exchange has cooperated with KGI Bank on bank trust custody and KYC screening process to further enhance the protection of users' assets.
3. Can I send ETC to ETH wallet?
These wallets are incompatible and will result in a loss of funds.
Please note that ACE will not take any responsibility for this kind of losses.
4. How to withdraw digital assets?
To withdraw digital currency, please refer to the following procedure:

Click "My balance" on the top right of the account page
Click "withdraw" on the digital currency you would like to withdraw, enter the withdraw address and amount.
Please confirm the information are correct, enter the Google verification code and account password.
Click "confirm".
Users can check the status of the transaction on the ACE platform's "Assets Record" section
Review ACE
Share your review below using the comment box. Your review will be published in this section.
Rate ACE Customer Care
Click on the below stars to rate.