BW.com is the world's first pool-based digital asset trading platform, providing a value investment platform for 280,000 miners, 600,000 digital currency investors, and users in 45 countries.
How to Contact BW Exchange Customer Support/Phone Number?
Customer Care phone: N/A
Email: [email protected]
Website: https://www.bw.com/

BW registered office address
Singapore, Singapore
About BW Exchange
Founded: 2017
Founder: N/A
BWB is a BW.COM platform point based on the ERC20 standard of the Ethereum blockchain, which bears community rights and interests, circulation attribute, and value attribute. The total supply of BWB is 1 billion, with no additional issuance forever. BWB is distributed through the mechanism of "synchronous release of POS mining". That is, 51 percent of the BWB will be returned to community users through the "mining by trading, mining by deposit, mining by mining" model. The rest of 49 percent of the BWB will be used for targeted distribution, public distribution, and distribution to BW Fund and operations teams. The BWB used for distribution is frozen in full in advance, and released gradually in proportion to the mining portion on a daily basis or released monthly on a maximum duration. BW will innovate to launch a new mining model and guarantee the rights and benefits of the community.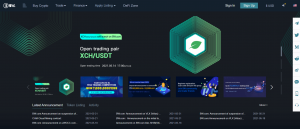 Click here to know the Deposit and Withdrawl Fee
Features
The world's leading digital currency trading platform
BW.COM's trading volume has been ranked in the top 10 of the Coinmarketcap main area. BW.com has a dedicated operation center and user community around the world. Both project parties and users can enjoy 7X24 caring service throughout the year
The world's top Liquidity Service Provider.
BW.COM has the world's top digital currency liquidity, which can meet the trading needs of various users, and the making service can perfectly support all kinds of transactions. It also provides liquidity services for other exchanges, such as ZBM.com,bithi.com, etc.
The safest trading platform
BW.COM has entered into a strategic cooperation agreement with bitbank.com, the world's top digital currency wallet service provider. BW.com users' digital currency is more efficient and safe in terms of currency protection while enjoying security professional protection.
The most professional trading platform
BW.COM, in conjunction with Wall Street's top financial institutions, continues to innovate and explore financial derivatives based on digital currencies, providing a one-stop digital currency-based financial product trading platform for project parties and investors.
Top 50 Traders of Cryptocurrencies in BW Exchange
| | |
| --- | --- |
| Ethereum Classic | Tokenlon Network Token |
| Bitcoin | Velas |
| SHIBA INU | 1inch |
| Dogecoin | Casper |
| Cardano | Gem Exchange And Trading |
| Chainlink | ABBC Coin |
| Ethereum | Bridge Oracle |
| Uniswap | SXC Token |
| Tether | Gera Coin |
| Neo | Safex Cash |
| Bitcoin Cash | WeBlock |
| Polkadot | Safex Token |
| Litecoin | Fesschain |
| Dash | CONUN |
| Qtum | Blockburn |
| Filecoin | Ormeus Coin |
| EOS | Ormeus Ecosystem |
| Kusama | Joule |
| Bitcoin SV | TNC Coin |
| Stellar | Orient Walt |
| SushiSwap | Bit World Token |
| XRP | KYSC Token |
| WhiteCoin | Rapidz |
| TRON | JUIICE |
| G999 | Syscoin |
FAQs
1. How to transfer funds into an exchange account?
Input www.bw.io and enter into 'Margin trading".
Click "Transfer Funds"
Choose which token to be transferred, click the arrow from margin account to exchange account.
Enter the amount and click "Confirm Transfer".
2. How to reduce the risk rate of margin trading?
Reasonable usage of margin multiples to control the position.
Take profit and stop loss in a timely manner and liquidate spontaneously.
Increase funds timely to make sure the ratio (total asset/margin quota) is over 102.5%.
3. What is the risk of margin trading?
Margin means limited principal to reach enlarged profit. But if your prediction is wrong, the loss is enlarged at the same time. So ordinary traders should avoid a high position in margin trading in order to prevent liquidation.
4. What is Margin Trading?
Margin trading is to magnify the principal several times, that is, getting the multiple returns with 1x principal. BW can support the principal up to 20x position, to magnify the return 20 times, but at the same time must bear the doubled risk of possible loss. Due to fluctuated price of digital assets, please understand fully the risk before trading.
Review BW.com
Share your review below using the comment box. Your review will be published in this section.
Rate BW.com Customer Care
Click on the below stars to rate.