EXX is a Hong Kong-based cryptocurrency exchange.
How to Contact EXX Exchange Customer Support/Phone Number?
Customer Care phone: N/A
Email: [email protected]
Website: https://www.exx.com/

EXX Exchange registered office address
Hong Kong, China.
About EXX Exchange
Founded: 2017
Company: Crypto Exchange
EXX is committed to the global popularization and development of digital assets. Operated by EXX Group Limited, EXX is an abbreviation of Exchange X. EXX offers cryptocurrency trading such as Bitcoin, Litecoin, Ethereum, and Ethereum Classic for our entire global user base. EXX is a professional exchange focusing on providing customers with convenient transaction processing and professional customer service.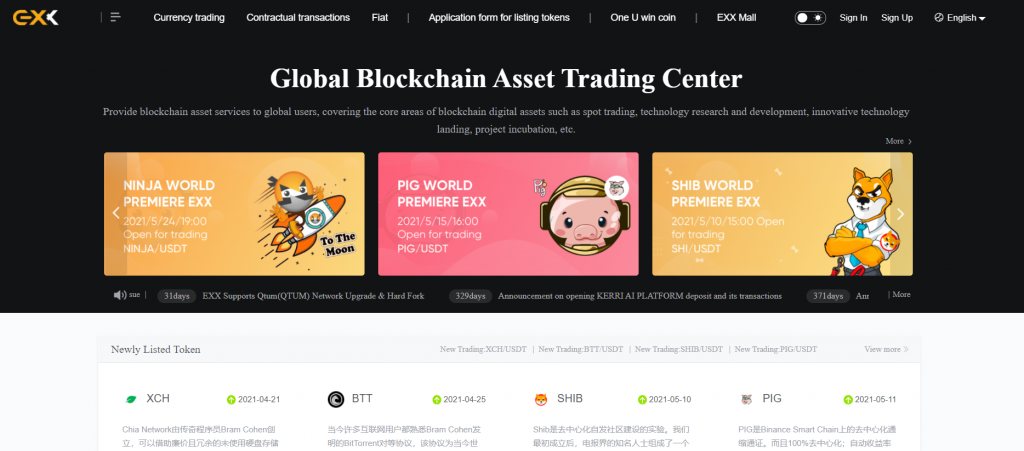 EXX Features
Multi-currency transactions
Support multi-currency transactions, our platform selected high-quality coins carefully
In order to rest assured for your trading
Varied activities
Great airdrop welfare and invitation registration for winning the gift
In order to make you enjoy trading
Low transaction fees
The transaction fee is the lowest and only two-thousandth of the fee is charged
Relaxing Transaction
EXX Advantages
Technical Strength
With over 10 years of security experience on our founder's resumes, security is our number one concern and priority. EXX has an international technical team with rich experience in creating and running websites.
Robust Security
EXX uses offline cold storage, multi-signature wallets, geographically redundant cloud servers, SSL encrypted traffic, real-time internal controls, and strict procedures to secure our customer's accounts and funds.
User Supreme
7* 24-hour online customer service, provides customers with real-time, fast, and efficient service.
Click here to know the Trading Fees
Top 30 Traders of Cryptocurrencies in EXX Exchange
| | | |
| --- | --- | --- |
| Ethereum | Polkadot | BitShares |
| TRON | Huobi Token | ZB Token |
| XRP | GateToken | Aeternity |
| Bitcoin | Cardano | Union Fair Coin |
| Ethereum Classic | Monero | OKB |
| Qtum | Curve DAO Token | Dash Cash |
| EOS | Band Protocol | Serum |
| Neo | Dogecoin | Bit World Token |
| Binance Coin | HyperCash | Ninjacoin |
| Litecoin | Chainlink | Ether Zero |
Download EXX Pro Exchange app
Exx Pro Exchange on Google play
FAQs
1. How to deposit?
First: Log in and click "Assets". After selecting the target coins, you can deposit by clicking on the button "Deposit" in the corresponding row. Or you can deposit directly by clicking on the "Deposit" button on the menu.
Second: Confirm the type of the coins. Then you can either copy the deposit address to the electronic wallet, or scan the QR code via the wallet to pay.
2. How to sign up?
Step 1: Go to https://www.exx.com, or alternate website https://www.exxvip.com/ After confirming the website is correct, click Sign up in the upper right corner, as shown below:
Step 2: EXX provides two ways to sign up, i.e., signing up via mobile and email.
Signing up via mobile: Please fill in the information and then click Get Verification Code. The system will send you a verification code message. If you cannot receive the verification code, there may be several reasons for it: a. the message is blocked; b. check if the number is a virtual number. If yes, please change another one; c. try with another browser (PS: Google Chrome is recommended). If none of the solutions can work, please contact customer service.
Signing up via email: Please fill in the information and click Get Verification CodeEmail. The system will then send the verification code to your email. If you can not receive it, you may need to check the spam in your email box. You will sign up successfully after filling in the verification code.
3. Can't get the phone verification code?
Review EXX Exchange
Share your review below using the comment box. Your review will be published in this section.
Rate EXX Exchange Customer Care
Click on the below stars to rate.