Liquid.com is one of the world's largest cryptocurrency-fiat exchange platforms serving millions of customers worldwide.
How to Contact Liquid Exchange Customer Support/Phone Number?
Customer Care phone: N/A
Email:[email protected]
Website: https://www.liquid.com/

Liquid registered office address
Tokyo, Japan.
About Liquid Exchange
Founded: 2014
Co-Founders: Mike Kayamori(CEO), Mario Gomez Lozada
Liquid exchange is one of the world's largest cryptocurrency-fiat exchange platforms serving millions of customers worldwide. They are consistently ranked among the top 10 regulated cryptocurrency exchanges globally based on daily traded spot volume with deep BTC/JPY liquidity. Its mission is to build a secure and progressive cryptocurrency ecosystem that suits all market participants. They are focused on providing a great user experience & world-class service levels.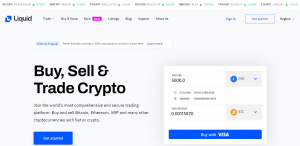 Click here to know the deposit and withdrawal fee.
Features
Security
They use the latest technologies to keep your funds safe and stay ahead of vulnerabilities and exploitation attempts.
Trusted
Trusted, secure, and reputable platform committed to maintaining high regulatory standards.
Fiat ramp
Banking for JPY, USD, SGD, EUR, HKD, AUD, and 150+ countries via bank card support.
Quick Exchange
Quickly integrate a flexible cryptocurrency gateway to offer swaps on your mobile and web platforms leveraging Liquid's exchange liquidity.
Enable buying tokens with debit/credit cards and crypto directly from your website.
Wash-free
Liquid prohibits wash trading. Liquid will provide preferential fees for designated Market Making accounts that provide liquidity in a transparent and fair manner.
24/7 Support
We work around the clock to unblock your roadblocks to a successful listing. They continue to work with you after the listing to help you achieve your goals at Liquid Exchange.
Top 48 Traders of Cryptocurrencies in Liquid Exchange
| | |
| --- | --- |
| Bitcoin | Electroneum |
| XRP | ThreeFold |
| Ethereum | Litecoin |
| Celsius | Wabi |
| USD Coin | Anchor |
| XinFin Network | 1World |
| Bitcoin Cash | Xaya |
| Energy Web Token | Tether |
| GYEN | ZUSD |
| Temtum | Gem Exchange And Trading |
| SpiderDAO | Aave |
| FIO Protocol | Uniswap |
| Bitcoin Vault | Thrive Token |
| RedFOX Labs | GET Protocol |
| ROOBEE | AMLT |
| QASH | Chainlink |
| Cenfura Token | Nahmii |
| Reserve Rights | Komodo |
| LikeCoin | TRON |
| Crypterium | Bifrost (BFC) |
| Kryll | Polkadot |
| The Sandbox | AllianceBlock |
| LCX | Unibright |
| Dash | Hedera Hashgraph |
Click here to know more coins.
FAQs
1. What is the Liquid Buy feature?
 There's no faster or easier way than Liquid Buy and Swap – use your bank card from anywhere globally to buy supported tokens on Liquid.
2. What are the minimum order sizes?
The minimums and maximums vary depending on currencies. As a general rule, minimums for cards are around $15 USD and for crypto-crypto around $2 USD.
3. Can I get a refund?
All transactions on Buy and Swap are non-refundable.
4. What cards can I use?
Visa is supported globally, MasterCard is supported only for Singapore, Nigeria, South Africa, and the UK.
Review Liquid
Share your review below using the comment box. Your review will be published in this section.
Rate Liquid Customer Care
Click on the below stars to rate.