A one-stop e-commerce website for all your shopping needs. Operating under Lulu Hypermarket, we aim to redefine your shopping experience by bringing all your shopping needs right to your fingertips.
How to Contact Lulu Webstore
Email:
[email protected]
Phone: 600 54 00 48
Website: https://www.luluwebstore.com
http://www.luluhypermarket.com/
Lulu Webstore Features
Get the best deals in town so that you can save up!
Get notified for exclusive discount codes, Sale alerts, and special offers
With over 30,000+ products & 1500+ brands, Lulu hypermarket offers you the best online grocery experience at affordable prices.
All you need and more. Shop online for grocery, fruits & vegetables, beauty & wellness, personal care, household care, diapers & baby care, pet care, organic products, meats, and seafood and get them delivered to your doorstep at the best prices.
Luluwebstore.com has a 7-day returns policy
Operates on a 3D secure payment gateway
Offers 2 types of delivery at present, courier delivery through our partner Aramex (UAE)
Lulu Webstore Payment Methods
Credit Cards (Visa, MasterCard, American Express)
Cash on Delivery
Current Running Deals and Promotions at Lulu Webstore
Updates soon…
Download Lulu Webstore – Online Shopping Android App/ Ios App
Get online shopping app
Ios App
Luluwebstore App Interface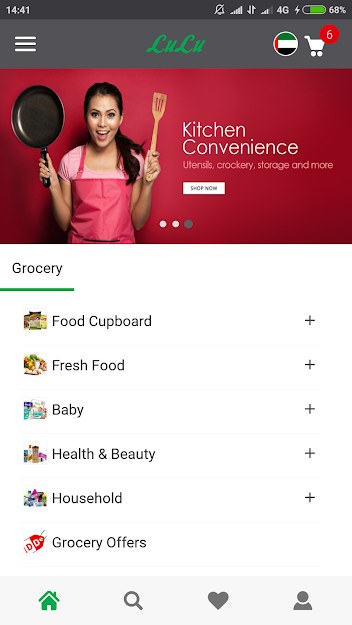 Lulu Webstore on Social Media
About Lulu Group
Founded: 2000
Founders: M. A. Yusuff Ali
Headquarters: Abu Dhabi
LULU GROUP INTERNATIONAL (LuLu Group) is a highly diversified conglomerate with successful business entities in strategic locations worldwide. Founded by the acclaimed business visionary Yusuff Ali M.A, LuLu Group has become a key contributor in the Gulf region's economic standing with an annual turnover worth USD 7.4 billion. Headquartered in Abu Dhabi, the capital of the United Arab Emirates, it is a world-renowned purveyor of an international business portfolio that ranges from hypermarket operations to shopping mall development, manufacturing and trading of goods, hospitality assets, and real estate. LuLu Group mainly operates in 22 countries located across the Middle East, Asia, US, and Europe.
Leave your feedback as comments/reviews in the stars below