Narkasa is a cryptocurrency exchange with support for Bitcoin, Ethereum, Chainlink, Ripple, Uniswap, 1inch, Holo, BitTorrent, and Tether.
How to Contact Narkasa Exchange Customer Support/Phone Number?
Customer Care phone: N/A
Email: [email protected]
Website: https://narkasa.com/

Narkasa registered office address
Huzur Mahallesi Maslak Ayazağa Caddesi No:4 H/201 Sariyer/Istanbul, Turkey
About Narkasa Exchange
Founded: 01/07/2020
Founder: Erdal Kaya[CEO]
Narkasa is a centralized cryptocurrency exchange in Turkey. It enables both new and professional users to trade cryptocurrencies quickly and securely on a user-friendly platform prepared with the latest technology at world standards. For Narkasa, the security of personal data and assets is always a top priority. Providing services with high-security standards, Narkasa is subject to periodic audits by international independent audit companies. Narkasa acts in line with AML/CTF and KYC policies in line with EU and Republic of Turkey laws.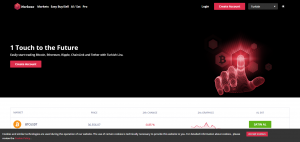 FEATURES
– Dashboard; check Bitcoin, Ethereum, and Chainlink price without login
– Market; check cryptocurrency real-time price
– Trade; buy and sell Bitcoin, Ethereum, Ripple, Chainlink, and Tether
– Wallet; deposit and withdraw your assets
– Account; change your password, create anti-phishing code, verify your identity, select fiat, and language
SECURITY
– Authenticator and SMS 2FA options
– Device authorization
– Anti-phishing code
– Remotely disable the mobile app if your phone is lost or stolen
– We store 98% of all cryptocurrency in cold storage
Click here to know the Deposit and Withdrawl Fee
Top 10 Traders of Cryptocurrencies in Narkasa Exchange
Bitcoin
Chainlink
Ethereum
XRP
Chiliz
Tether
Uniswap
1inch
BitTorrent
Holo
FAQs
1.How do I convert my cryptocurrency into Cash?
If you sell your cryptocurrency in your balance by selecting TRY parity, your existing cryptocurrency will convert into Turkish Lira. You can transfer it to your bank account to withdraw.
For example, if you want to convert your Bitcoin into the Turkish lira, you should sell BTC/TRY.
2. What is the minimum trading limit?
You can click on the link to see the detailed table about minimum processing limits.
3. How to set up Google Authenticator 2FA?
You can set up Google Authenticator 2FA by visiting; Narkasa>Account>Security>Security Options>Google Authenticator2FA Activation.
4. How long do my open orders remain valid?
Your orders will remain valid until they are realized or canceled by you. You may view your open orders by visiting your account or market pages.
Review Narkasa
Share your review below using the comment box. Your review will be published in this section.
Rate Narkasa Customer Care
Click on the below stars to rate.