Velic is delivering the highest quality digital asset services in one financial platform.
How to Contact Velic Exchange Customer Support/Phone Number?
Customer Care phone: N/A
Email: [email protected]
Website: https://www.velic.io/

Velic registered office address
Singapore
About Velic Exchange
Founded: 2018
Founder: N/A
VELIC is a financial services platform powered by the ICON network.VELIC stands for Vault, Exchange, Loan, and Investment for Crypto-asset services. It offers a variety of financial services related to blockchain-based assets, including safe storage, trading, lending, and investment of crypto assets. Based in Singapore, VELIC has a growing user base notably in the Asia region. VELIC will apply the knowledge and experience from operating a commercial enterprise to expand and accelerate the ICON Network and its community.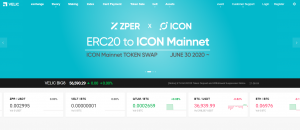 Features
Crypto Asset
All services we provide are for cryptocurrency-based assets.
 User-friendly UI/UX
  Interface designed to allow users to trade and invest easily and efficiently.
 Fast and secure system
 Thanks to the trading system designed by the finance industry and blockchain experts, VELIC mobile application delivers a fast and secure trading experience.
IAO anywhere, anytime
VELIC's unique token offering platform is available on mobile, 24/7.
Click here to know the Deposit and Withdrawl Fee
Top 16 Traders of Cryptocurrencies in Velic Exchange
| | |
| --- | --- |
| Bitcoin | EOS |
| ICON | TrueUSD |
| Ethereum | USD Coin |
| Qtum | Tezos |
| XRP | Cosmos |
| Litecoin | VEHICLE DATA ARTIFICIAL INTELLIGENCE PLATFORM |
| Stellar | Klaytn |
| Bitcoin Cash | TRON |
FAQs
1. How do I cancel an order?
You can check the waiting order within the exchange screen, and in the case of an unconcluded waiting order, you can cancel it.
Check executed orders, canceled orders, transaction history, asset status, etc. by moving the tab of pending orders.
Can also check pending orders through [Assets] > [Orders] > 'Pending Orders' tab.
Unconfirmed pending orders can be canceled.
2. How do I check my transaction history?
You can check the transaction history within the exchange screen.
You can check executed orders, canceled orders, transaction history, asset status, etc. by moving the tabs at the bottom.
Transaction history can also be checked through [Assets] > [Orders] > 'Transaction history' tab.
3. What are the taker fees?
 A user who immediately executes his/her own order for the remaining bid/sell balance in the bid window. The "taker" fee starts at 0.2% and can be as low as 0.00%.
4. What to do If I made a withdrawal to the wrong address?
It is impossible to know who has the authority to the address, and transfers completed on the blockchain network cannot be reversed.
If you know who has the rights to that address, please contact the person/platform/service.
Review Velic
Share your review below using the comment box. Your review will be published in this section.
Rate Velic Customer Care
Click on the below stars to rate.